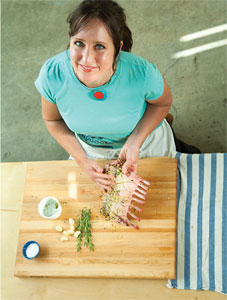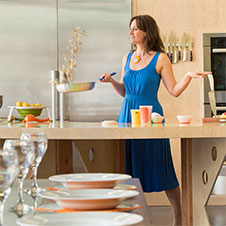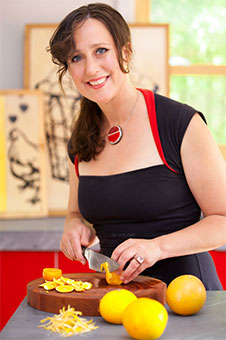 The founder of Hipcooks, the school famous for not using recipes, is now sharing recipes of her own? Go on, poke your fun.
With a father from Argentina, I grew up with summers of long afternoon asado's. My dad and uncle would make a day of it, tending the fire and told the calls were the perfect meat cooking temperature. At a dining table filled with friends and family, out came course after course. If I could ask my abuelo in properly pronounced Spanish for "un poco mas de vino por favor," my little glass got filled–the perfect motivation for learning a new language.
My German mother is happiest in the kitchen or in the garden–and she creates masterpieces in each. The tenth child born into a war-torn family, she and her brothers and sisters scattered like dandelion seeds all over the globe. One sister flew to Iran, and I have a gaggle of blue-eyed Iranian cousins who love to eat almost as much as they love to laugh.
It's safe to say, I have the travel bug and me. And it has led my palate. At age 15, I went on a solo adventure to Europe, and I've been exploring–and eating–around the world ever since.
After graduate school in England, I wandered to Venezuela, where I met a couple from Kentucky. They had spent twenty years building a sailboat in their backyard–hull, sales, and all. Never missing a chance to go exploring. I excepted an opportunity abroad and learned about the Spice Islands, picking up allspice, nutmeg, and cinnamon along the way.
My favorite part of Morocco was getting lost in the medinas. In a narrow passageway I'd be brushed by a stinky, sweaty donkey, only to turn the corner and discover, to my olfactory delight, a woman with a cart full of fresh mint for sale.
On the Greek Islands, squinting in the sun and watching fishermen tenderize octopus against the seaside rocks, I realized that all you need to be happy in life is a little salt, olive oil, and lemon juice. Then, on the heels of a particularly bad break up, I enrolled in cooking school in Thailand and learned you can heal your heart with fish sauce.
Now, "all grown up" with a beautiful red-headed daughter, Lucia, I have found that traveling the globe has taken a backseat to raising a family. Physically, that is–we do our globetrotting in the kitchen. There, we let the world come to us. No jet lag necessary.
With love,
Monika